"The greatness of a nation can be judged by the way its animals are treated."
Mahatma Gandhi
Craniosacral Therapy for Animals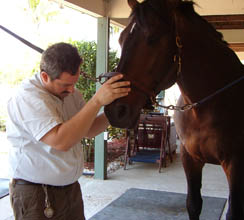 In 1990, Jim was working with a client with low back pain. After benefitting from CST, the client asked if this might also help her dog who was suffering from low back pain. After success with the dog and CST, Jim continued to work with many other animals, also showing similar beneficial results.
In 1995, a facilitator at the Upledger Institute (UI) asked if Jim would put together a two-day Equine class for a friend in Ocala, FL. The class went very well and Jim was soon contacted by an equine group in northern California with branches in Canada and England to teach a CST Animal class for them. As interest in the class grew, it was decided that a study guide would be needed, so Jim approached UI about their input and ideas for this new CST class and was told that the class was his and he could do with it as he wished. At this point in Jim's career, he had taught over 100 classes, both CST-1 and CST-2, was working with animals for the last 7 years, and had a wealth of ideas to draw from experientially. Jim built a repertoire of techniques that showed themselves over the years as being the most effective for use with animals and assembled them into the 4-day class which maximizes the full potential of the participants and the animals.
Jim taught the animal CST class in Canada, England, Holland, Iceland, Ireland, and the United States. He also did animal-centered CST presentations in Australia, Hong Kong and New Zealand.
Those with a lesser understanding of CST usually take the CST-1 protocol and try to apply it directly to animals, which may in theory seem sound, but is not therapeutically the most skillful or effective means of achieving the greatest results for the animal or producing the broadest understanding for the therapist. There are some who break down each day of the craniosacral one class into its own entire 4-day course while others have an entire series of classes focusing specifically on horses, dogs or cats but in the end, the participants learn the same set of techniques. We at Acorn Seminars truly value our students and are aware and respectful of their time, money and energy.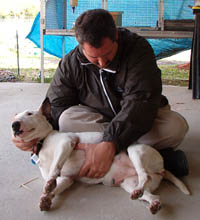 The Craniosacral therapy class for Animals is an introduction to the craniosacral work in general. It is a 4-day class consisting of lectures, demonstrations, and practice sessions throughout each day. For those interested in equine craniosacral therapy, as well as feline and canine craniosacral therapy, you will find everything you need to know. This class is open to the veterinary physician, the caring pet owner, and anyone who would like to have some effective hands-on tools to help their animals. Techniques to be covered will be beneficial for both people and animals.
Animals bring an unconditional love that helps to soothe people of the day-in, day-out stresses of life. Our animals become our family and just as we become stressed, so do our pets. In the equestrian field, we like to encourage both the rider and the horse to receive work. Considering how intimate the connection between horse and rider is and how one being affects the other, craniosacral therapy for both will enhance performance, health, and vitality.
The class is based on years of experience in working with both people and animals. Jim was doing presentations on animals in the CST-1 and CST-2 classes even prior to the first CST for Animals class in 1995. We have found that equine craniosacral therapy has been the easiest and most enjoyable for the participants to learn their CST techniques due to the horse's familiarity and comfort level with people, high saturation point for receiving the work, and patience with participants learning the work. It is formatted very differently from other classes pertaining to animals that participants may have taken in the past. Emphasis will be placed on the participants being open to receiving and giving the craniosacral work with fellow classmates and discussing feelings and encouraging personal insights. This class has a set structure for all four days and yet, the approach to applying the work follows more of an improvisational tone with an understanding of the basic concepts of CST.
There is a three fold learning objective for this class:
1) For the participant to gain insights and awareness of themselves by receiving craniosacral work in the class. The majority of class time will focus on working with fellow classmates. Centering and grounding techniques will be utilized. This will allow the student the opportunity to feel the craniosacral therapy like the animal would.
2) For the participant in the class to learn craniosacral techniques that they can use to help both people and animals. By working with fellow classmates, they get direct feedback on their palpation and blending skills to keep improving their sensitivity. This is of utmost importance as animals are so good natured, they will often tolerate a less-than agreeable therapeutic situation.
3) For the participant to use the craniosacral techniques with animals under supervision initially, to gain greater sensitivity and in time, to make better and more effective decisions when working with the animals under their care.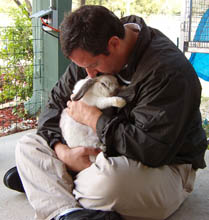 Participants are encouraged to receive a number of CST sessions before they come to class. This is to prepare the student for the work they will receive during class time. It has been found that the quality of the work done with animals often is reflected by the space from which the therapist is aware of within himself or herself. In order to enhance the efficacy of the work, the class proceeds as follows: DAYS 1 and 2 will consist of techniques and evaluative exercises with lectures and labs with fellow class participants for both morning and afternoon sessions for personal insights and technique clarification. DAYS 3 and 4 will consist of more techniques and evaluative exercises with fellow class participants in the morning sessions. The afternoon sessions will give participants the opportunity to take the techniques and insights they have learned previously and apply them to animals. Participants will do well to also have basic understanding of safety issues in working around animals. Clothing should be layered and comfortable for class time and appropriate for animal time. Class times are 9am to 7pm (ending times are approximate). All students will be asked to sign an insurance liability release form provided by Acorn Seminars and the participating stables.
Experienced craniosacral therapists have found this class to be an excellent review with a fresh approach to the material.
We are available to special needs riding centers, equine groups, and large/small veterinarians may contact us for classes in their area.
Registration for CST Animal class
To register for the CST Animal class, please contact Regina Green at (315) 325-4423 or e-mail us at info@acornseminars.com

The tuition in the United States is $800 per person with a pre-registration discount of $50.00 (one month in advance). Full payment is required to reserve a space. There is a $100 non-refundable registration fee. Classes are limited to 18 participants.
Certification Program for Animals
We have done our best to make our certification program as complete an experience for the participant as possible. All who have gone through our certification process have found it a most educational and profitable use of their time and energy. In 2012, we started placing a more rigorous standard for our apprentice level certificants in the lab portions of the exam.
Acorn Seminars Craniosacral Therapy Certification Program for Animals is designed to give the experienced therapist trained in CST with animals acknowledgement for their understanding and skill in this therapeutic modality. The benefits of CST certification are a strong understanding and application of techniques, creating assurance in the owner's mind of the therapist's skill level in CST and to build confidence with potential clients. Along with the application, applicants will be required to provide a copy of a hands-on license or equivalent indicating the legal ability to do hands-on therapy with both people and animals. Applicants will need to check their own state's regulations. CST is not a stand alone hands-on license. All successful certificants will receive a framed certificate indicating proficiency status.
In regards to our classes, it is our policy that students with previous training through other schools must be checked out prior to class through a practical examination in order to take a higher level Acorn Seminars class. Each participant will be required to have completed up to or above the CST-3 class and have achieved certification at that level by Acorn Seminars. Upon completion of certification, the applicant will be requested to take the CST for Animals class (Acorn Seminars classes only) twice before sitting for the CST Certification Program for Animals. Participants will also be required to have basic animal handling experience and safety background.
To register for certification, call Acorn Seminars at (315) 325-4423 or e-mail us at info@acornseminars.com. An applicant form will be sent to you with an introductory letter stating expectations of the therapist, materials to know and testing opportunities in your area.
The CST Certification Program for Animals consists of: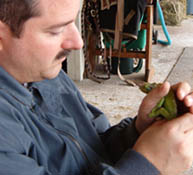 1) an open-book essay exam
2) a true/false, multi-choice objective question exam
3) a hands-on practical with oral exam
4) hands on practical exam on three horses
5) 25 documented CST sessions- 13 humans, 12 animals
6) 4 (four) peer group student exchanges
7) 2 (two) receive professional sessions
The certification will include testing the applicant's clinical ability to apply craniosacral therapy on both the tester and the animals during the hands-on/oral practical portions of the exam.
The CST Certification Program for Animals costs US$500.00 with US$250.00 due at time of application. Re-takes at each level are $250.00. We reserve the right to withdraw certification based on unethical or inappropriate actions on the part of the certificant by the certification ethics committee.