"Take the attitude of a student, never be too big to ask questions,
never know too much to learn something new."
Og Mandino
Frequently Asked Questions about Craniosacral Therapy:
Seminars
What makes Acorn Seminars unique?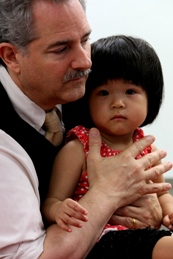 Acorn Seminars, Inc. is an independent family-owned and operated company and is not affiliated with any other craniosacral therapy school, group, or organization.
Your instructor, Dr. Jim Green, teaches all the Acorn Seminars craniosacral therapy classes. This allows for continuity, integration, and consistency throughout the whole of the students education, plus you get years of experience both clinically and educationally. When you take a craniosacral therapy course from Acorn Seminars, the fundamentals, even from CST-1 onward, will come back to clarify, assist and reinforce your skills even at the CST-6 Advanced level. A few things of interest about your instructor, Jim:
started CST curriculum in 1985- took CST1, CST2, SER1, SER2, Advanced 1 and 2 with Dr. John Upledger as the instructor.
did his teacher training for CST1, CST2, Pediatrics CST, and the Dissection CST course directly under Dr. John Upledger.
worked at the Upledger Foundation's Brain and Spinal Cord Dysfunction Center from 1989 to 1994.
worked as staff therapist at the Upledger Institute's clinic in Palm Beach Gardens, Florida from 1989 to 2002.
developed his own craniosacral therapy class for animals while working at the Upledger Institute and also headed the CST2, Pediatrics and Animal courses for the Upledger Institute in North America.
started teaching for the Upledger Institute in 1990 and taught close to 250 classes.
the first CST practitioner to become certified by Dr. Upledger in techniques level certification.
How does this benefit the student looking for high-quality craniosacral therapy seminars?
high quality experience - you get the instructor's years of experience both clinically and educationally working directly under the tutelage of Dr. John Upledger, both as a clinician and instructor .
consistency- your instructor, Jim Green, teaches all the Acorn Seminars craniosacral therapy classes. This allows for continuity and consistency throughout the whole of the students education and guarantees that each class is built upon a strong foundation and prepares the student well for higher level seminars.
integrative- we are able to combine many schools of thought to offer a well-rounded vision of craniosacral therapy with years of experience and through further studies of the works of Dr's. Still, Sutherland, Magoun, Becker, Fulford and Frymann.
historical- Jim has developed classes that are rich in the history of craniosacral therapy and in the osteopathic philosophy in which it originates.
body mechanics- we strive to constantly encourage the therapist to use their bodies in ergonomically balanced and sound ways which allows for longevity in the profession and health for the practitioner.
repetition- the fundamentals you learn in CST-1 are reiterated and will come back to clarify, assist and reinforce your skills throughout the entire curriculum.
personalized- all classes are small enough to ensure individualized attention during the practical, hands-on portions of the seminars for a more qualitative experience overall.
affordable- as a small company, we are able to keep the classes financially available for every student.
family owned- from answering your phone calls to designing classes and study guides, from organizing and setting up each seminar to the creation of the website and all promotional materials, we strive to create a high-quality, personalized and comfortable workshop experience .
How do I register for classes with Acorn Seminars, Inc.?
Choose the seminar of your choice from the Calendar page and use the contact information to register.
In the United States, please contact Regina Green at (315) 325-4423 or e-mail us at info@acornseminars.com

In Hong Kong, please contact Acorn Seminars at Whatsapp number: +852 94645148 or e-mail at acornseminars@gmail.com

For classes anywhere overseas, please contact Regina Green at (315) 325-4423 or e-mail us at info@acornseminars.com

Do you accept other CST schools' classes if I want to take higher level Acorn Seminars classes?
In regards to our classes, it is our policy that all students, regardless of what level they have attained through other schools, must start at our CST-1 Basics level class. Because all the schools have different philosophies and curriculum emphasis, over the years we have found that students coming into our program without having our fundamental structure in place, end up with a scholastic disadvantage, both in lecture and laboratory portions of the classes. This not only affects the individual student but impacts the overall class, flow, and learning experience environment for all. Many transfer students are initially frustrated by this policy, but after they take our classes in CST, they always comment that they received so much more complete and integrated information that they are always satisfied with their decision.
How much do the seminars cost?
An educated consumer is our best student. By offering high-quality classes at reasonable prices, we believe we are an excellent value for the student in their quest to learn craniosacral therapy. The CST class tuition in the United States is $700 per person or $650 if registered one month prior to seminar date. Full payment is required to reserve a space. There is a $100 non-refundable registration fee. Classes are limited to 24 participants.
The CST Animal class tuition in the United States is $800 per person or $750 if registered one month prior to seminar date. Full payment is required to reserve a space. There is a $100 non-refundable registration fee. Classes are limited to 18 participants.
The CST-6/Therapist Intensive class tuition in the United States is $900 per person or $850 if registered one month prior to seminar date. Full payment is required to reserve a space. There is a $100 non-refundable registration fee. Classes are limited to 10 participants. This is a five (5) day class.
CST Approach International classes tuition may vary from country of origin.
How long are the seminars?
The seminars are 4 days long (except for the CST-6/Therapist Intensive class which is 5 days), Thursday through Sunday. Class times are 9am to 6:00/ 7:00pm for all 4 days. First day begins at 8:30am for registration. Ending times are approximate and often run late. Attendance and active participation for all 4 days (Thursday, Friday, Saturday, Sunday) is required for certificate of completion. The fourth day is a completely full day and the senior instructor will be on hand for all the afternoon practice sessions.
Will I be eligible for CEU's?

Acorn Seminars, Inc. is approved by the National Certification Board for Therapeutic Massage and Bodywork (NCBTMB) as a continuing education Approved Provider #450070-06. Continuing Education hours are as follows:
31- CST- 1 Basic
32- CST- 2 Intermediate
32- CST- 3 Whole Body
32- CST-4 Pediatrics
32- CST-5 Dialogue and Imagery
40- CST-6 Therapist Intensive
31- CST Practical Integration
35- Craniosacral Approach for Animals
What will I receive in the class and how can I best prepare for an enjoyable experience?
The participants will receive a study guide and hand-outs, seminar instruction, hands-on workshop training, morning and afternoon refreshments, and a seminar certificate. Participants are also encouraged to receive CST sessions prior to the class and have a session set up after the class, as the classes are designed as educational experiences. Participants are encouraged to wait a minimum of 3 to 6 months before going onto the next level for practice and integration. For participants going onto higher level classes, CST-3 and beyond, practicing and receiving regular CST work outside of class will often ease the learning curve of new material and lessen the intensity of the lab portion of the seminars. Participants who are familiar with previous class material will find the review portions of the mornings more meaningful and effective. Anyone going on past CST-3 will find that practicing and receiving mouthwork is a must for all practitioners wanting to get the most out of the classes.
What are the cancellation policies?
If Acorn Seminars, Inc. cancels a seminar you will be notified 21 days before the first day of class. In this case you will be entitled to a full refund or we will transfer your course credit to any other seminar. Acorn Seminars, Inc. is not responsible for any expenses incurred due to flight or hotel reservations.
If you need to cancel a seminar you must inform Acorn Seminars, Inc. a minimum of 21 days in advance. If your cancellation is received less than 3 weeks in advance of the seminar no refund will be given.
The full seminar fee will be charged upon failure to appear at the course or failure to notify Acorn Seminars, Inc. prior to the course.
Can I sponsor an Acorn Seminars, Inc. course?
If you would like to sponsor a four-day Acorn Seminars, Inc. class in your area or through your school, please call ASI for more information regarding sponsorships at (315) 325-4423 or e-mail us at info@acornseminars.com.
Remember, the Tax Reform Act of 1986 allows you to fully deduct registration fees and travel and lodging expenses incurred while attending conventions or seminars relating to your profession. Meal cost will remain at 50% deductible.
Clinic
How do I make an appointment for a clinic treatment?
For an appointment : e-mail us at info@acornseminars.com
Clinic Hours: Monday through Friday, 10am-5pm.
First time clients must schedule 4-6 sessions sequentially, (1x per week), for best results.
What is craniosacral therapy?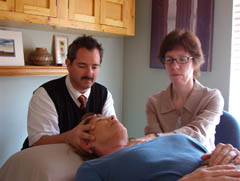 Craniosacral Therapy or CST, is a gentle, hands-on therapy that taps into the body's own natural self-corrective ability to create balance and wellness in the nervous system.
Originally, osteopathic physicians (D.O.'s) practiced manual medicine that emphasized manipulation of the musculo-skeletal system. CST was just one of many techniques in the osteopathic field. Techniques like cranial osteopathy, muscle energy, counterstrain, visceral manipulation and myofascial release were all part of the foundation of osteopathic principles and practice. After Dr. Still's death in 1917, the emphasis on manual therapy began to diminish, the use of pharmaceuticals was introduced, and a more allopathic (M.D.'s) approach to disease took over osteopathic education. In the last few decades, manual therapies such as craniosacral therapy have been reclaimed by non-osteopathic healthcare practitioners around the world.
Using a light touch, the therapist addresses what Dr. Sutherland termed the primary respiratory mechanism, which consists of membranes, the central nervous system and the cerebrospinal fluid which produces a cranial tide or rhythm. The goal of CST is to free up restrictions inside the skull and the spine, thus relieving stress, decreasing pain, and enhancing overall health in the central nervous system. A properly functioning central nervous system determines how relaxed, capable, and resilient the health of an individual will be throughout life.
When patients see their doctors with pains and aches that become more chronic and create more interference with the normal functioning of life, customarily the physicians will do a series of exams on the various bodily systems. However, most of these strains, sprains, and minor dislocations in the musculo-skeletal system are often not observable through MRI's, PET scans, CAT scans, blood tests, or x-rays. Should the test results come back negative, most patients are left conventionally with either medications, stretching exercises or bed rest as options. If these don't respond, then surgery is another option. Beyond that, they may be told that they will just have to learn to cope, which leaves them feeling frustrated, confused and often still in pain. One of the beneficial aspects about people going to their general practitioners or specialists is that often more serious and acute problems in nature can be ruled out. Manual modalities like craniosacral therapy are virtually risk-free and often detect the root problem very early on in treatments. People who come in regularly for maintenance sessions usually can take care of problems long before compensation patterns begin and tissues become pathological.
Who does craniosacral therapy?
A wide variety of healthcare practitioners practice CST from osteopathic physicians, medical doctors, dentists, nurses, chiropractic physicians, acupuncturists, homeopathic and naturopathic physicians to physical therapists, occupational therapists, and speech therapists. Another large group practicing CST is composed of massage therapists and other professional bodyworkers. Many of these practitioners develop their skills at an accelerated rate, compared to typical healthcare practitioners working in a conventional setting. The reason for this may lie in the longer time frames that bodyworkers are often taught in their schooling and clinical settings. Most practitioners find CST fits easily into their practice and is beneficial and virtually risk-free for people of all ages and most conditions.
What conditions does craniosacral therapy help?
Most people are quite surprised at how effective CST is in helping them with their pain and discomfort since this kind of pain relief is usually thought of as being the staple of conventional medicine. Craniosacral therapy enhances vitality and encourages the body's own natural healing abilities and internal pharmacy to regain health and balance in a gentle way. Wide-ranging conditions can often be helped such as:
Orthopedic Problems/ Stress Management/ Headaches/Migraines/ Neck and Back Pain/ Brain and Spinal Cord Injuries/ TMJ Dysfunctions/ Learning Disabilities/ Post Traumatic Stress Disorders/ Emotional Difficulties/ Chronic Pain Syndromes/ Healthy Baby/Healthy Mother Programs/ Sleep Disorders/ Wellness Visits/Vertigo/Tinnitus
How does craniosacral therapy help babies and children?
Since the craniosacral system has a direct impact upon the smooth functioning of the brain and spinal cord, it is easy to see how restrictions and tensions in these areas can create a multitude of motoric, sensory and neurological impairments in babies and children.
Research has shown that womb positioning and the birth process itself has a very strong impact on the central nervous system. Carried out in the delivery room or within weeks of delivery, CST can often reduce a wide variety of problems, many of which may not be noticed by conventional medicine until children start showing delays in their developmental milestones or reach their school years. School-age children can benefit greatly as well from regular craniosacral work. Even problems with head shape and skull-bone overrides can be corrected with the skillful use of craniosacral therapy. It is suggested that parents also receive CST sessions prior to the children getting the work to have a personal experience of what the child will feel clinically.
Conditions such as the following can be helped with CST:
Colic/ Hydrocephalus/ Failure-to-thrive syndromes/ Hearing problems/ Motor problems/ Pylorospasm/ Erb's Palsy/ Vomiting/ Seizures/ Strabismus/ Cerebral Palsy/ Torticollis/ Dyslexia/ Aphasias/ Down's Syndrome/ Autism/ Hyperactivity/ Spasticity/ and many others.