"Educating the mind without educating the heart is no education at all."
Aristotle
Certification Program
Acorn Seminars Certification Program
Acorn Seminars Craniosacral Therapy Certification Program is designed to give the experienced therapist trained in CST acknowledgement for their understanding and skill in this therapeutic modality. The benefits of CST certification are a strong understanding and application of techniques, creating assurance in the client's mind of the therapist's skill level in CST and to build confidence with potential clients. All successful certificants will receive a certificate indicating proficiency status and be able to use the designated titles for each level: CST-A, CST-J and CST-M.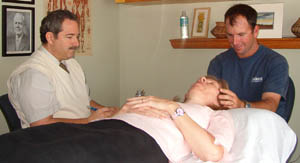 To register for certification, call Acorn Seminars at (315) 325-4423 or e-mail us at info@acornseminars.com. An applicant form will be sent to you with an introductory letter stating expectations of the therapist, materials to know and testing opportunities in your area.
In regards to our classes, it is our policy that students with previous training through other schools must be checked out prior to class through a practical examination in order to take a higher level Acorn Seminars class. Along with the application, applicants will provide a copy of a hands-on licensed document or equivalent indicating the legal ability to do hands-on therapy. Craniosacral therapy is not a stand alone hands-on therapy.
Each level of certification will include:
1) an open-book essay exam
2) a true/false, multi-choice objective question exam
3) a hands-on practical with oral exam
4) 25 documented CST sessions
5) peer group student exchanges
6) receive professional sessions
All test levels will include testing the applicant's clinical ability to apply craniosacral therapy on the tester during the hands-on/oral practical portion of the exam. Applicants must be able to demonstrate blending, send/receive/neutral, craniosacral rhythm, unwinding with significant stop as well as tissue response with release. These are the fundamental techniques for apprentice level certification.
There are three levels of the Acorn Seminars Certification Program:
Apprentice Level (CST-A)
- successful completion up to CST-2 or above
Journeyman Level (CST-J)
- successful completion up to CST-4 or above
Masters Level (CST-M)
- successful completion up to CST-6
Each level costs US$500.00 with US$250.00 due at time of application. Re-takes for each level are US$250.00.